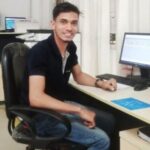 About Candidate
Hi, I'm Anik. I am a professional digital marketer and social media marketing expert. I have been successfully working with digital marketing for 3 years. I have successfully completed 200+ projects online and offline through digital marketing. Through this work I gained vast knowledge. The most important thing is that each of my clients was very happy with my work. If you are looking for an experienced digital marketer to take your business to the next level, I want to be a part of your journey. My main goal is customer satisfaction. thank you
Education
H
kendua government university
H.S.C (Higher Secondary Certificate) is a two-year educational program completing secondary education. It covers a range of subjects and prepares students for higher education or professional pursuits. Obtaining a good H.S.C qualification is essential for admission to universities, scholarships, and job opportunities. It signifies successful completion of secondary education and equips students with foundational knowledge and skills for their future endeavors.
B
Bachelor's degree
2019-2022
Kendua government university
A bachelor's degree is an undergraduate academic qualification typically earned after completing a three to four-year program at a college or university. It provides in-depth knowledge and expertise in a specific field of study. A bachelor's degree is often a prerequisite for many professional careers and serves as a foundation for further education at the postgraduate level. It demonstrates a higher level of education and specialization in a particular discipline.
Work & Experience
D
Digital marketing Manager
5/10/2020
As a digital marketing manager in a future IT company, I used my skills to drive strategic marketing initiatives. I will develop and execute comprehensive digital marketing strategies using SEO, content marketing, social media and paid advertising to increase brand visibility, generate leads and maximize conversions. Through data analysis and performance tracking, I continuously optimized campaigns to deliver measurable results and ensure a strong online presence for the company. I stay updated with emerging trends and technologies to drive innovation and maintain a competitive edge in the digital landscape.
Awards
D
Digital Marketing Manager
2022
I am honored to receive the prestigious Digital Marketing Manager Award for my exceptional contribution. This recognition highlights my ability to develop and implement highly effective digital marketing strategies, resulting in significant business growth and tangible results. I have demonstrated a deep understanding of various digital marketing channels including SEO, PPC, social media and content marketing. Through data-driven insights and innovative approaches, I have consistently exceeded goals, increased brand visibility and optimized conversion rates. This award is a testament to my dedication, creativity and commitment to deliver outstanding digital marketing campaigns that drive success for organizations.