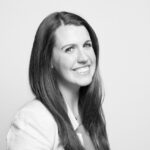 About Candidate
Fueled to connect people with brands that will improve their experiences, I lead marketing teams that strategize meaningful connections utilizing principal and innovative marketing and communication tactics. I understand peoples needs, anticipate their wants, and craft innovative solutions through brand storytelling.
I have a proven ability to inspire global teams and execute integrated marketing, brand, and communication strategies throughout an impactful technology career.
Work & Experience
G
Global Head of Brand and Business Marketing
Sep 2022 - Oct 2023
Drove forward the company mission to generate awareness of a new AR and AI enterprise-grade SaaS organization. Built, led, and delivered results through a global team of marketers encompassing events, creative, content, digital, product, and communications and fostered a collaborative and positive team culture across multiple US and EMEA time zones.
H
Head of Marketing, North America
Dec 2019 - Sep 2022
Fit Analytics (A Snap, Inc. company)
Owned P&L for marketing and communications for Fit Analytics North America, an AI-based SaaS solution for retail. Additionally responsible for competitive and market analysis, presented findings and strategies to the CEO to inform business plans.
D
Director of Marketing
Apr 2017 - Nov 2019
Managed integrated marketing strategy for Smart Choice MRI, an investor-backed retail health start-up, and managed a team of digital and public relations agencies and contractors.
M
Manager Digital Store Operations
Jun 2016 - Apr 2017
Owned P&L of $72M Baby Super Department (Gear, Furniture, Toys, Consumables, and Clothing) for Walmart eCommerce. Led and developed a team of 5 employees.
e
eCommerce Merchant
Jun 2014 - Jun 2016
Owned P&L of $66M Womens Apparel Department for Walmart eCommerce. Owned the development of conversion rate optimization resources for the Apparel department which led to an initial 3X lift in conversion.
A
Associate eCommerce Merchant
Sep 2012 - Jun 2014
Owned P&L of $32M Shoes & Accessories Department for Walmart eCommerce. Managed the site experience action items to deliver best-in-class online browse and search experience of managed assortments. Doubled the Shoes and Accessories business to $32M YOY.
B
Brand Manager
Jun 2010 - Aug 2012
Developed, launched, and managed merchandising and site placement of three private-label brands. Maintained a $10M portfolio and an average gross margin of 60%.
Skills
Market Research
Brand Strategy
B2C Marketing
B2B Markteting
SaaS Marketing
P&L Ownership
Department Leadership