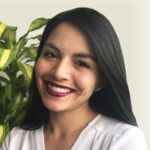 Maria Laura Ramirez Campos
About Candidate
Hi!
My name is Maria Laura Ramirez, and I am located in Costa Rica. I am a mother and a wife. I
have two dogs, and I consider myself an easygoing person.
It comes naturally to me to build sincere relationships with each person I get to know.
I believe that regardless of the differences between two people, there's always an opportunity to learn from one another. That's why I am passionate about communications and how they can be leveraged in marketing.
Life has taught me the importance of being a self-starter and a self-sufficient individual, and I strive to apply this philosophy every day.
Education
M
Masters Degree in Digital Marketing
2021
D
Degree in Visual Design
2013
Universidad Veritas, Costa Rica
Work & Experience
M
Marketing and Communications PM
2019 - 2023
I was responsible for managing and supporting the following areas: -Workflow and team performance. -VMUserGroup events (onsite and online) promotion, including content and graphic delivery. -Creation of email marketing HTMLs (AMER) and communication of VMware Twitter channel performance. -VMUG Voice monthly newsletter content, deliverables tracking, and stakeholder metrics. -Communication plans and deliverables. -VMUG community programs. -Internal marketing and awareness activities. -Data analytics reporting through Marketo. -List pull requests based on demographic criteria for potential VMUG resources worldwide.
I
Internal Communications Specialist
2017 - 2018
Coopeservidores, Costa Rica.
Responsible for managing and developing: -Internal communication strategies (Customized and preferred channels). -The development of recruiting marketing brand communication. -The strategy for achieving the "Great Place to Work" Human Resources Certification. -Mass email communications and surveys through CRM. -Workplace and Internal Media management. -Intranet maintenance and oversight through SharePoint. -Internal communication and marketing internships.
C
Communications, Marketing & Senior Graphic Designer
2014 - 2016
Colliers International, Costa Rica.
Responsible for: -Developing and monitoring marketing and communication strategies (both internal and external). -Maintaining brand guidelines and graphics creation for marketing plans, feasibility studies, market research, corporate presentations, and mass email communications. -Handling logistics for external events, including direct communication with stakeholders. -Generating communication and marketing reports for the Headquarters. -Managing local recruiting communications. -Maintaining the website through a content editor and social media content creation.